30/08/2023
The Angler - Out Now on Console!
Calling all couch Anglers!
Put your feet up and get comfy because Call of the Wild: The Angler is now out on Xbox Series X|S, PlayStation 5, Xbox One, and PlayStation 4, and offers full cross-play support. Xbox Game Pass and Game Pass for PC members can also download and jump into the base game straight away.

More details are below!
The team has worked hard behind the scenes to deliver a console launch and gameplay experience that we hope meets your expectations. We can't wait to hear all about those magnificent angling adventures!
Console Performance Highlights
No matter your preference, you'll be able to play with friends across PC and console thanks to cross-platform play

Targeted console framerates:

60 FPS on PlayStation 5 and Xbox Series X

30 FPS on PlayStation 4, Xbox Series S, and Xbox One

PlayStation 5 and Xbox Series X players can also choose between Performance or Quality mode in the game settings, favoring an increased frame rate or graphical quality and resolution
Get It Now
Head to the PlayStation Store or Microsoft Store for Xbox to get The Angler today!
Launch Edition
A perfect beginner bundle, this limited-time-only edition includes the base game and Norway Reserve.
Deluxe Edition
For the enthusiastic angler who wants more, the Deluxe Edition comes with the base game and Reserve Pass which includes Norway, two upcoming unannounced Reserves, and a Cosmetic T-shirt Pack.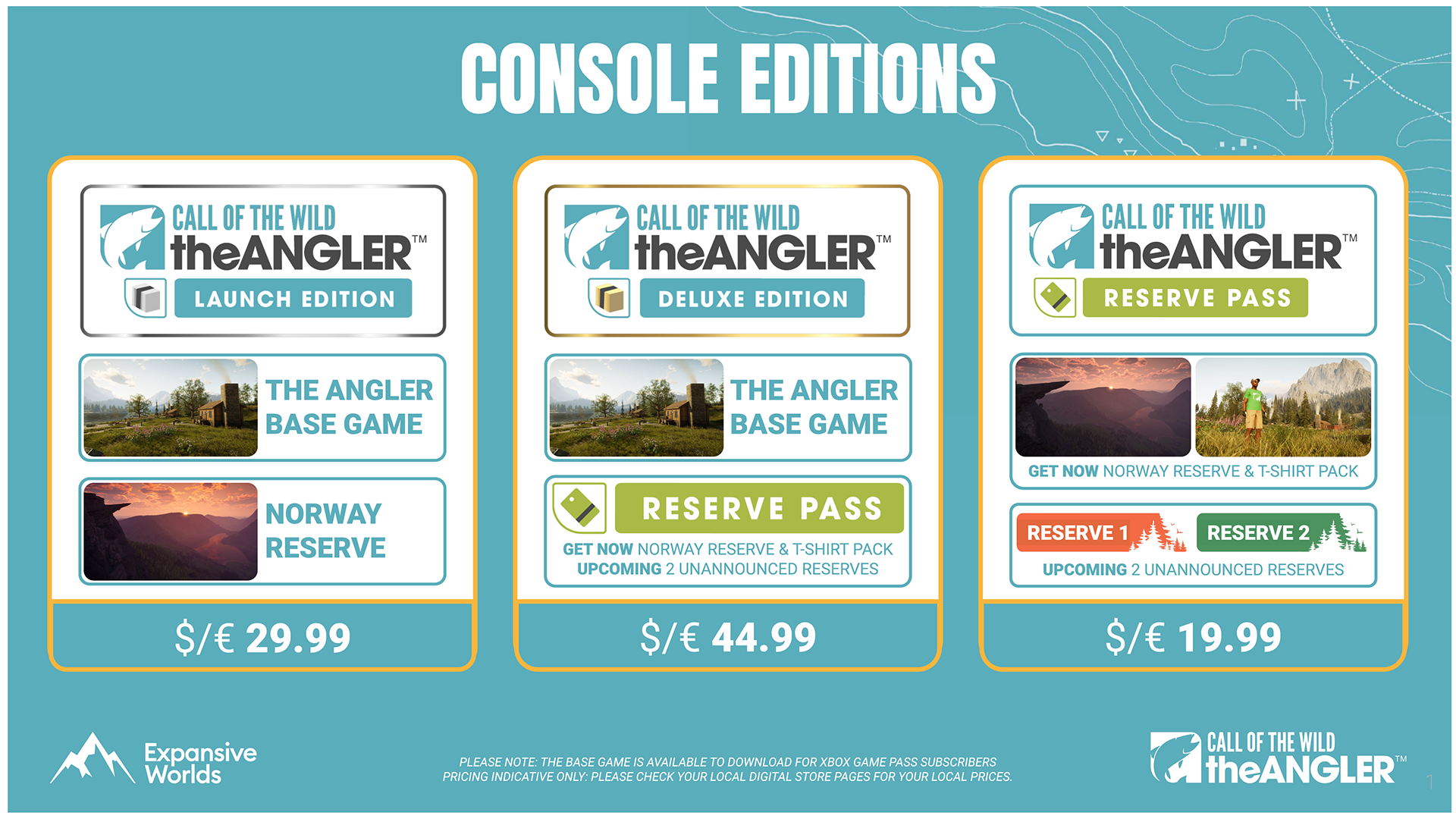 Here's to you, our amazing community, for all the support and patience you've given us over the last year. We look forward to creating more enjoyable content and evolving The Angler experience for years to come, thanks in part to your valuable feedback!
Happy Angling!
In Case You Missed It
Read up on the Evolution Update, released for PC on August 16 and available now for console

Learn more about the onboarding and progression overhaul in this dev diary by Technical Designer Nathan van den Berg

Watch the console dev diary video for behind-the-scenes snippets and interviews!
Join The Angler community! Meet fellow fishing enthusiasts and find new friends in the official Discord.
Having issues?  We're here to help! Head to our Support Portal to submit a report.
About the Author
This content was made by the fine people at Expansive Worlds, a creative division of the globally renowned Swedish games development company, Avalanche Studios Group. Stay up to date with all things The Angler and interact with our growing and passionate community by following us on social media!