20/06/2022
Welcome to Golden Ridge Reserve
When it comes to fishing games, a fun world and characters might not be the first thing that comes to mind. But if you've talked to an angler before, tall stories are all but inevitable, so I'd say it might be a better fit than you'd think! Our aim is to create a world in which you can make your own stories and listen to a few of ours ("It was this big!").
Hello, Anglers,
It's lovely to meet you! I'm Ben, the Narrative Designer on Call of the Wild: The Angler. Narrative Designers are specialized game designers, responsible for trying to make "story stuff" sound cool.
I've always thought of The Angler as not necessarily focusing on pure fishing simulation, but rather on the experience of a memorable fishing trip and everything that surrounds it. There's a world filled with distinct locales, characters, and unique history to discover. Everything aspires to convey a wider world of places, equipment, and people that you can explore on your own or alongside others, should you choose to venture into multiplayer.
Inspiration and Feel
Golden Ridge Reserve wears its inspiration on its sleeve. Yellowstone National Park in the United States is a lovely place to visit, and there's a reason it's such a popular destination. Everything you'd immediately think of is there, and we wanted to take an archetypal experience from that place with a dash of our own character. There's also a certain shared history between Golden Ridge and its real-life counterpart, however that history has diverged with the advent of the Johnsons, the Wardens of the Reserve, and Sophia Taylor, our Shopkeeper, both of whom you'll come face to face with. The more distant history is something we've recorded on a guide tape for you to listen to as you explore, and you'll be able to learn something about both Yellowstone and Golden Ridge Reserve.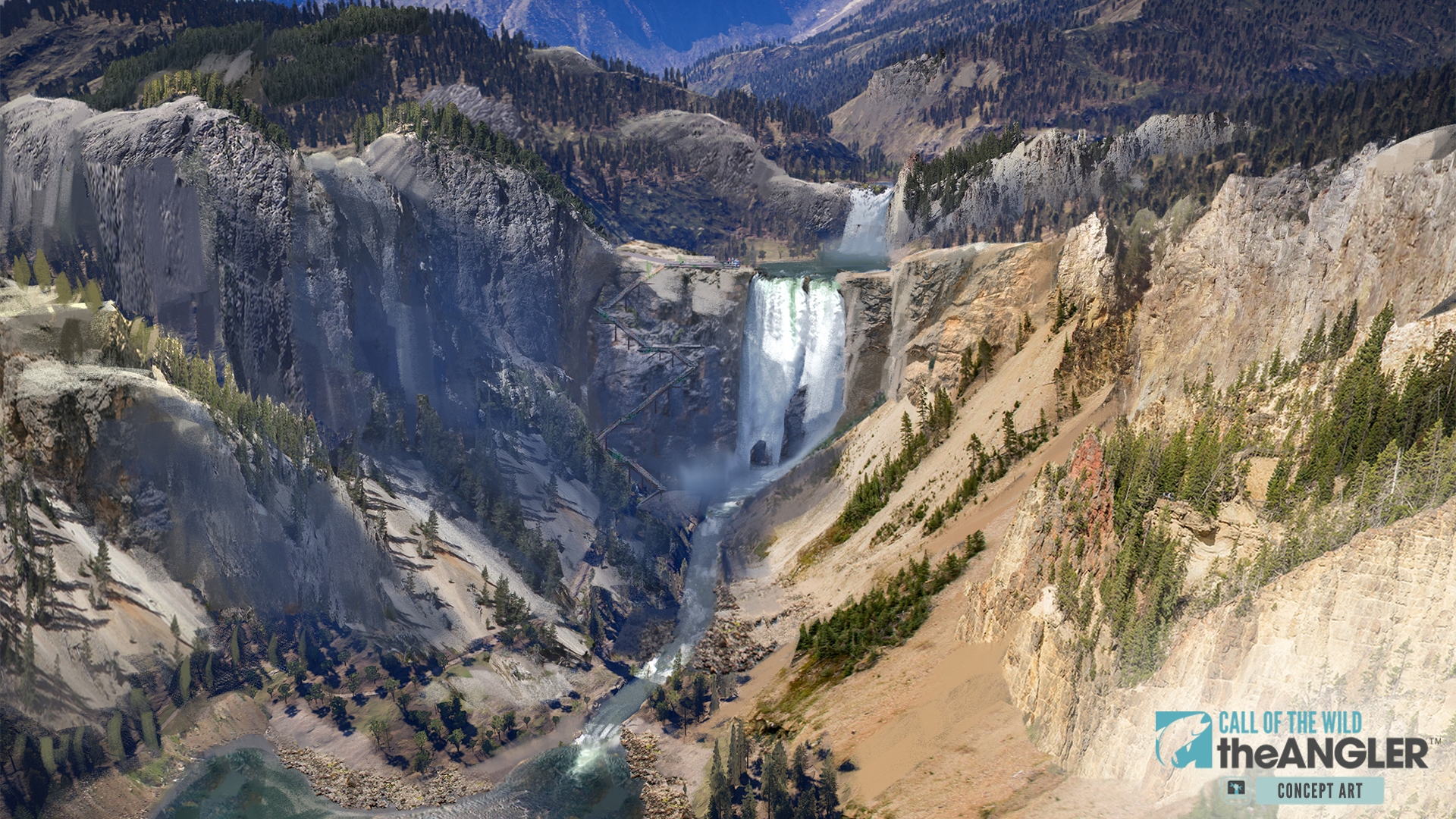 Concept Art: Waterfall Ravine
Golden Times
Before Golden Ridge became the reserve it is now, the land was occupied and owned by the Shoshone, Crow, and Blackfoot people. The land has and always will be precious in more ways than one, and everyone who's anyone wants a piece, although not all of them have equal claims. In recent history, Golden Ridge Reserve has become an important conservational cornerstone, and you'll be able to hear about all manner of conflicts in the park as well as what they've left behind.
Looking at the narrative design from a high-level perspective, our aim is to provide something that harmonizes with the melody of the fishing experience. As previously mentioned, we've created a podcast-style storytelling experience that you can listen to as you're driving, walking, or boating from place to place. There are also short face-to-face conversations that will give you some context about the world, as well as some notes you can read if you'd like.
The reserve is also not without its own fair share of legends. If you're in the know, you may recognize a certain large-footed individual, some sonorous lake warblers, and a few other pieces of exotic Americana; we've also cooked up a few new stories of our own. There are plenty of secrets to discover if you'd like to take the time to do some sleuthing, as well as characters poised to make a return in the future.
Talking about characters, we have a few, in particular, you can meet as soon as the game launches:
Introducing: Clayton Johnson
Clayton Johnson is the latest in a line of proud Park Wardens and this land is more than just a vacation to him; it's a vital part of his identity. Golden Ridge Reserve runs in his veins, and while he may not be too keen of an angler himself, he is responsible for safeguarding a beautiful environment for you to fish in. Times are a-changin, and so is the reserve, and for all of Clayton's virtues, moving with change isn't one of them. You'll be able to help him in some of his exploration tasks – if he lets you.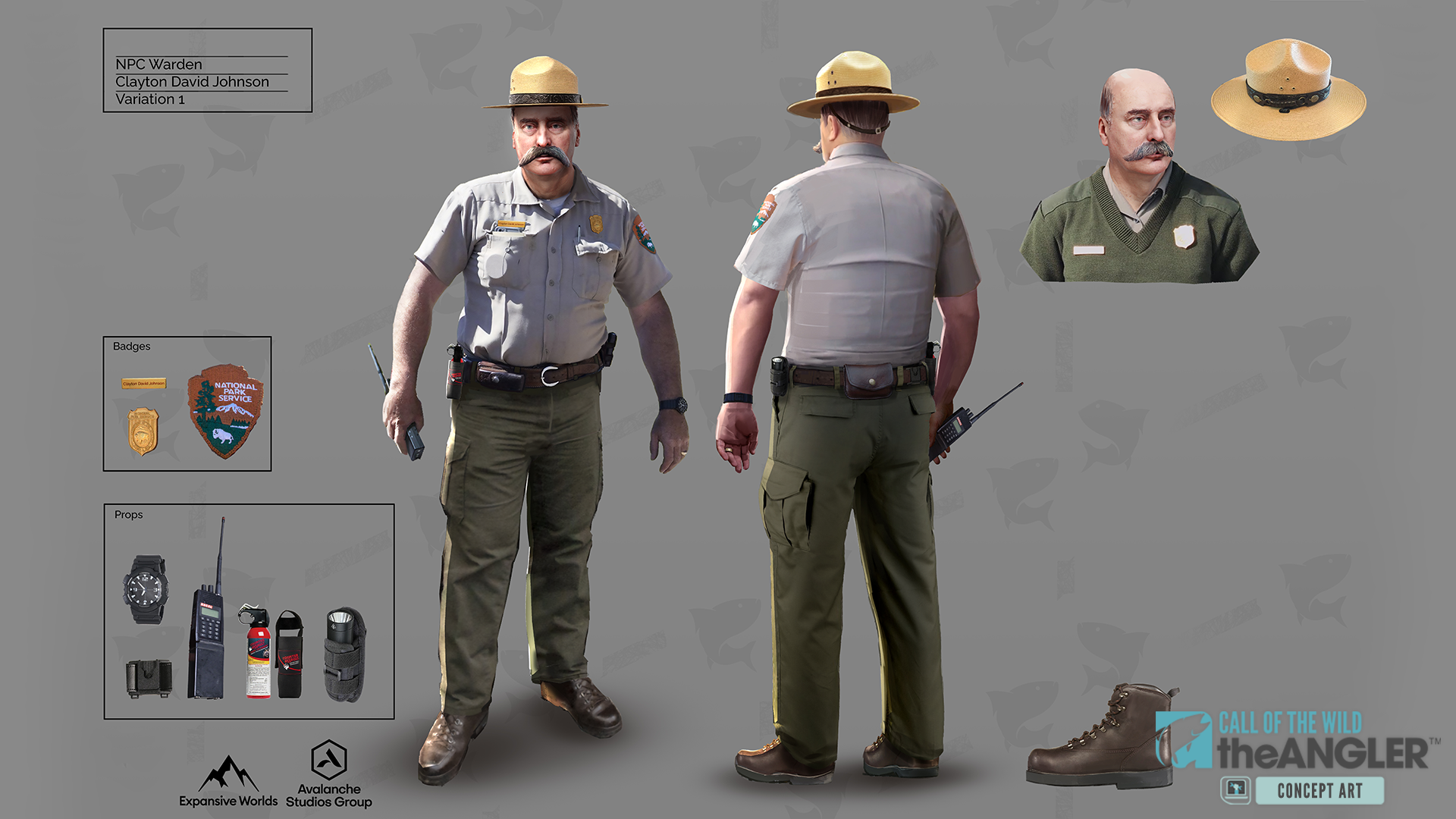 Character Concept Art: Warden Clayton Johnson
Introducing: Sophia Taylor
Sophia Taylor is the enterprising proprietor of Taylor's Tackles and an expert angler, here to provide a much-needed service and teach all and sundry the ropes. It's not all about financial opportunity, though. Sophia has come to Golden Ridge Reserve specifically because it is special to her. She believes she can make a big difference to the park, for the sake of her memories and holidays here as a child. She has millions of good ideas, it's just getting Clayton to listen which is the issue! You'll find her in her shop down at the central reserve outpost where she can teach you a thing or two.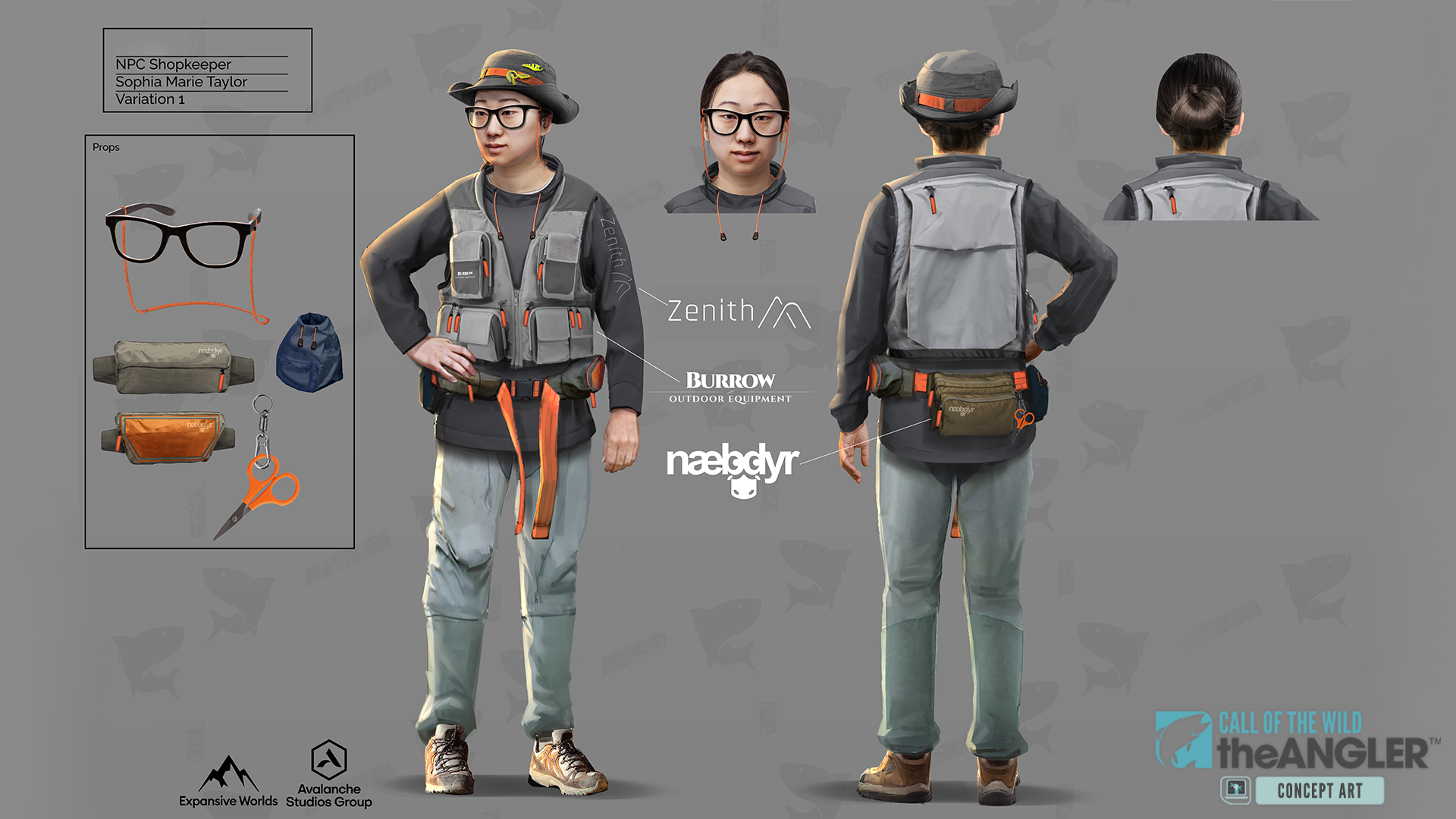 Character Concept Art: Shopkeeper Sophia Taylor
Evolving The Angler
Expansive Worlds have been weaving stories into simulations for a long time, but as we go forward, I'd like The Angler to feel distinct and build up its own character, and for that we need you! I'd love to hear what you think on our social media platforms or in our community streams. You can also ask me some story questions on Twitter, although I might not be able to answer them until the game releases!
It's time to book your tickets to Golden Ridge Reserve! All of us here at Expansive Worlds wish you a pleasant stay whenever you get the chance to join us.
About the Author
Entering the industry as a programmer, Ben is one of the longest-tenured Narrative Designers in Avalanche Studios Group, having worked on Rage 2 and other projects prior to The Angler. He's a consummate Yakuza fan, glutton, and a bad wrestler.