18/08/2023
A New Approach to Onboarding and Progression
Hello All, Nathan here.
As a Technical Designer, it's my job to work closely with both designers and programmers to design, test, and improve how many of the different systems in The Angler work together. While there are a lot of new features in the Evolution Update, including eight new species in Golden Ridge Reserve, today I'll be focusing on the changes we've made to the onboarding experience and progression system.
Onboarding
Onboarding refers to the experience you have when you boot up The Angler for the very first time. From the way you interact with the elements and features of the game to the world around you, we want you to ease in and have all the tools and knowledge you need to play comfortably. Part of your onboarding is done when you go through the tutorial and missions, which are specifically designed to get you familiar with the game.
While The Angler is meant to emulate fishing, it's not super realistic, meaning that even experienced anglers will still have a lot to learn. If you have no knowledge of fishing, you might find things in The Angler especially difficult to grasp and even consider giving up on learning. So what did we do to make things go smoother?
The Tutorial
Well, first of all, we took a look at the tutorial and actually ended up shortening it! After analyzing what we needed, what was too much, and what was unnecessary, we've made the tutorial quick and to the point, with clear and concise explanations:
Learn to cast

Catch a fish

Meet the shopkeeper

Equip new bait

Learn about drag

Meet the warden

Grab a mission from the mission board
That's it! This can be done in as little as ten minutes, and it should give you a solid understanding of the basics. For more in-depth information, though, we've created the Taylor Tackle Academy (TTA).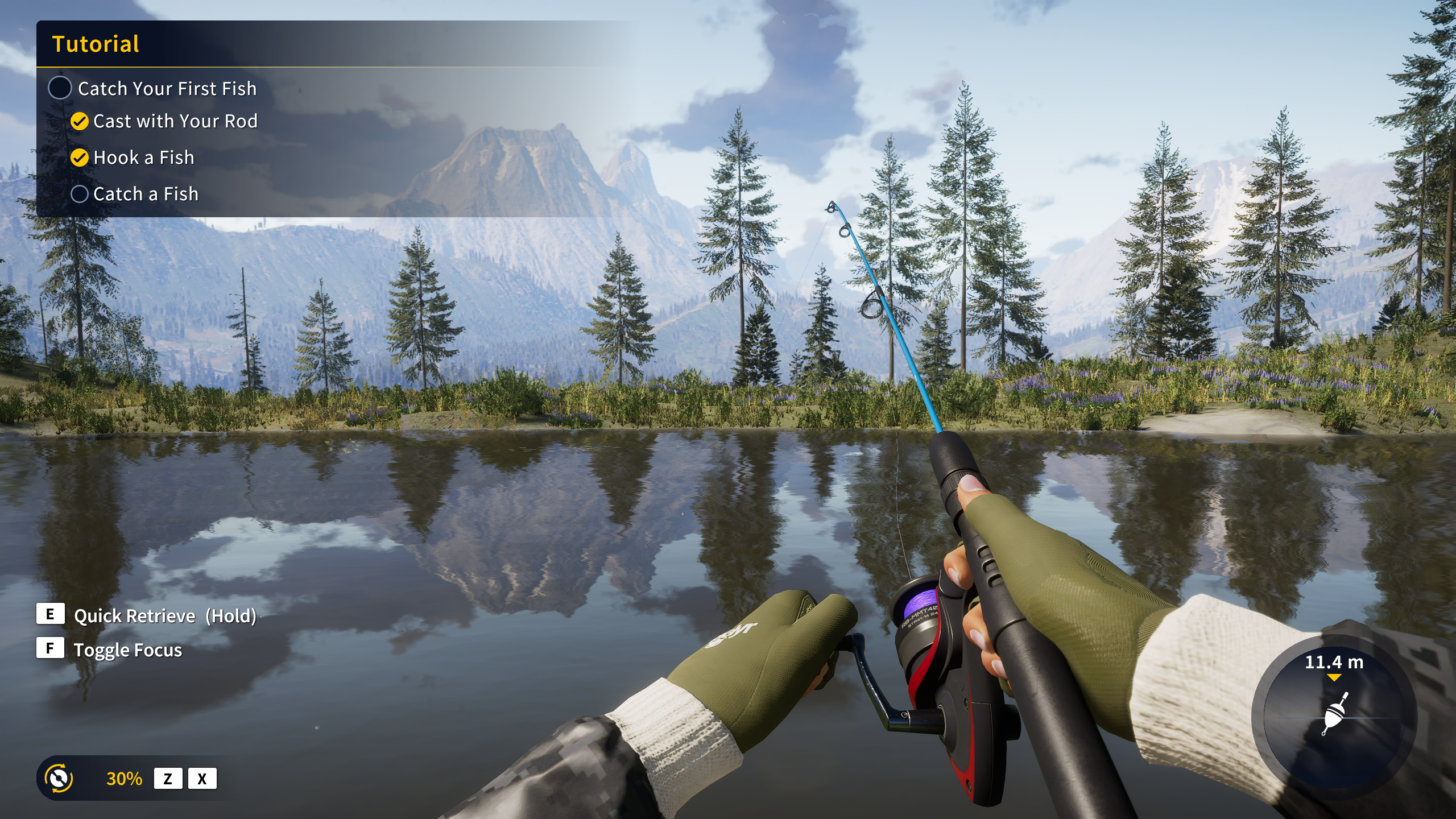 The Taylor Tackle Academy
TTA is a series of four missions and challenges. This is the real meat of our new onboarding experience. While starting the first mission is mandatory to finish the tutorial, actually completing it is entirely optional, though it is strongly recommended for anyone new to the game.
Each of these four missions tackles a specific topic and ensures you understand before moving on to a simple fishing challenge. Through these missions, you also receive free gear that can be used to make the challenges easier. Finishing the first challenge mission, for example, provides you with an entire 2kg tackle that can carry you through the rest of the TTA.
The TTA also replaces any optional missions we had before. Once you finish the entirety of the TTA you should be equipped with all the tools and knowledge you need to play, covering:
Float fishing & baits

Rod building & hook sizes

Spin fishing, lures, and ranks

Spin fishing, day vs. night time, using the handbook, the souvenir shop
It will also provide you with some unique rewards that can't be obtained anywhere else!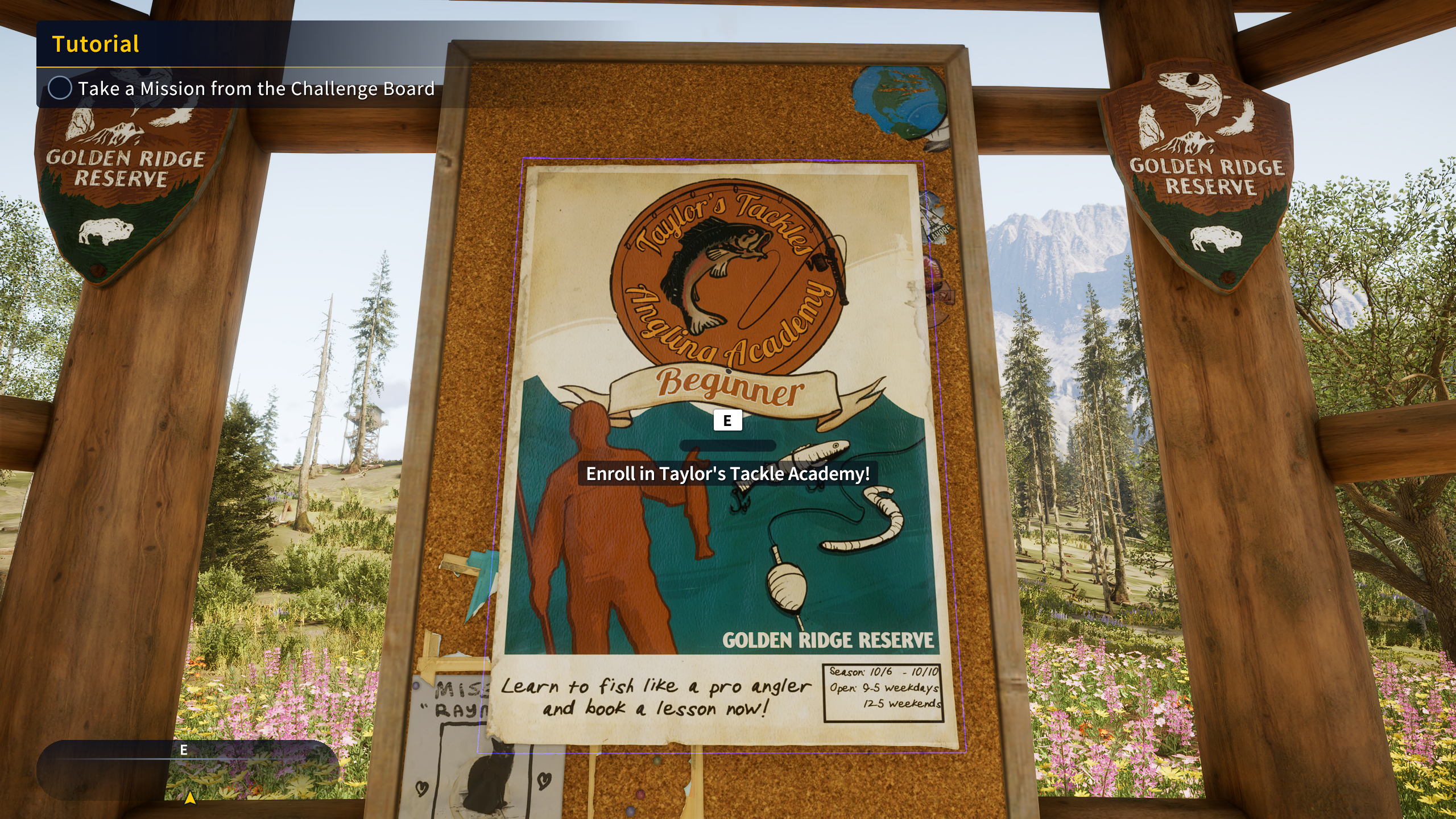 Progression Overhaul
In short, the word "progression" includes everything you do and interact with that allows you to do more or encounter more challenging content. In our case: catch bigger fish and look cool doing it!
For The Angler, progression involves:
EXP & Levels

Credits

The Shop

Reputation

The Souvenir Shop

(New) Trophy Tokens
This might sound complicated, but it all comes down to one question: How can I improve my ability to catch fish? The answer is by buying more varied and stronger gear.
So why did we make these changes? Well, simply put, the system wasn't delivering on what we wanted it to do, which is to provide short-, medium-, and long-term goals to players. The overhauled system is much more equipped to provide these goals and create a sense of progression. It also provides a more solid foundation for future improvements.
Let's dive into what changed.
Credits, Levels, and Experience
Credits
Previously, credits were earned by leveling up and reaching XP thresholds. Credits are now earned per catch and the amount of credits you earn is based on the fish's weight. You can also earn credits from completing missions.
Levels
With credits being earned per catch, you no longer earn credits on level-up. Instead, leveling up gives other rewards at specific levels and acts as an unlocking mechanism for gear in the shop. These rewards range from stacks of bait to entire rods and reels (the last of which is not available for purchase in the shop).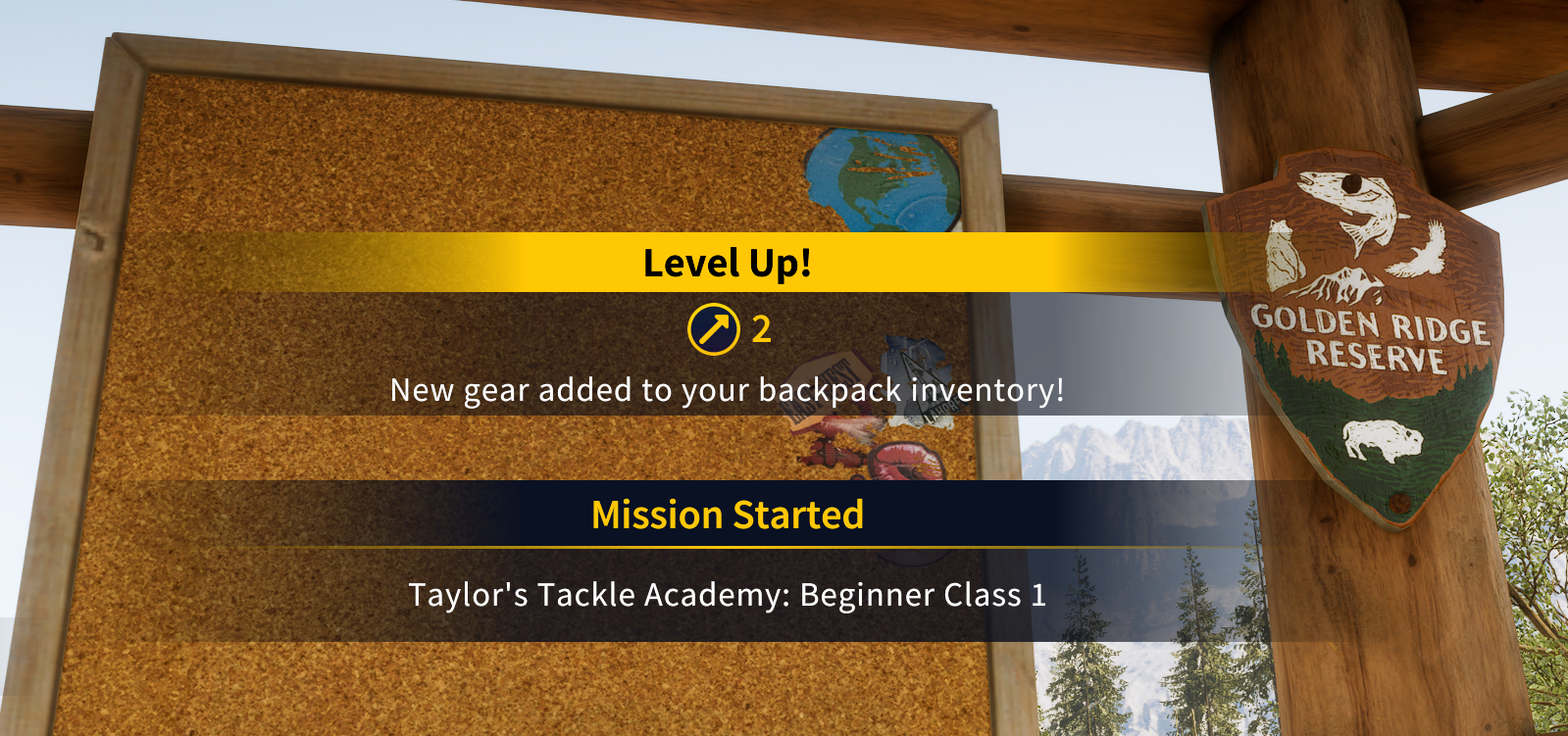 There are two big reasons why we've gone down this route:
To give a better sense of progression, by giving specific early-game goals and broader late-game goals.

To guide new players better. It's a lot harder now to buy the "wrong" equipment from the shop, as things unlock in a more natural way and the unlocking gear is set up to match with each other in many cases.
Experience (EXP)
While you still earn EXP from catching fish and doing missions, the amount of EXP earned now depends on the fish's weight instead of the score. Additionally, gear plays a much greater role in how EXP is given, meaning catching a big fish with light gear will give you more EXP.
The New EXP Curve
As a result of these changes, leveling up might feel like it takes longer. To put things in perspective, let me give you some numbers. All of these EXP numbers are cumulative, meaning it's the total amount of EXP you've earned and not per level:

As you can see, the EXP values are now considerably larger. This may look like we're making the game more grind-y, but that's not the case. In fact, the rewards and unlocks you get from leveling up should make the process feel more meaningful.
In drastically lowering the level cap from 9999 to 200 (Level 200 with the new curve equals level 2509 in the old curve), the core gameplay hasn't been changed. The aim is rather to make leveling up and gaining access to new gear more satisfying than it was before.
For folks worried about what this does to their level: yes, your level has been lowered. However, you won't lose any credits, gear, fast travel points, reputation, etc.
There are two things this does affect:
Missions in GRR have been reset, however, your reputation remains intact for the missions you previously completed.

Folks that are currently over level 205 have lost any EXP they earned beyond that point. Up to level 205, you have been set to a level that corresponds to the new EXP curve exactly. We had to draw a line somewhere, and this allowed us to include everyone in the new EXP curve.
This overhaul also gives us a much stronger base from which we can develop this system in the future. We're already thinking about how we can expand this and give players the power to set their own short- and long-term goals.
Reputation, the Souvenir Shop, and Trophy Tokens
Reputation
While reputation is still earned from doing missions, it is now also required to unlock items in the Souvenir Shop.
The Souvenir Shop
The Souvenir Shop now has two sections:
Local Souvenirs: This section is unique for every reserve, and will feature items related to the reserve.

High-end Gear: All of the Legendary equipment, previously available in the regular shop, is now moved here.
Everything in the Souvenir Shop should be treated as prestige items. None of these are strictly necessary to catch all the fish, but they will either make it easier or make you look cooler doing it (or both!).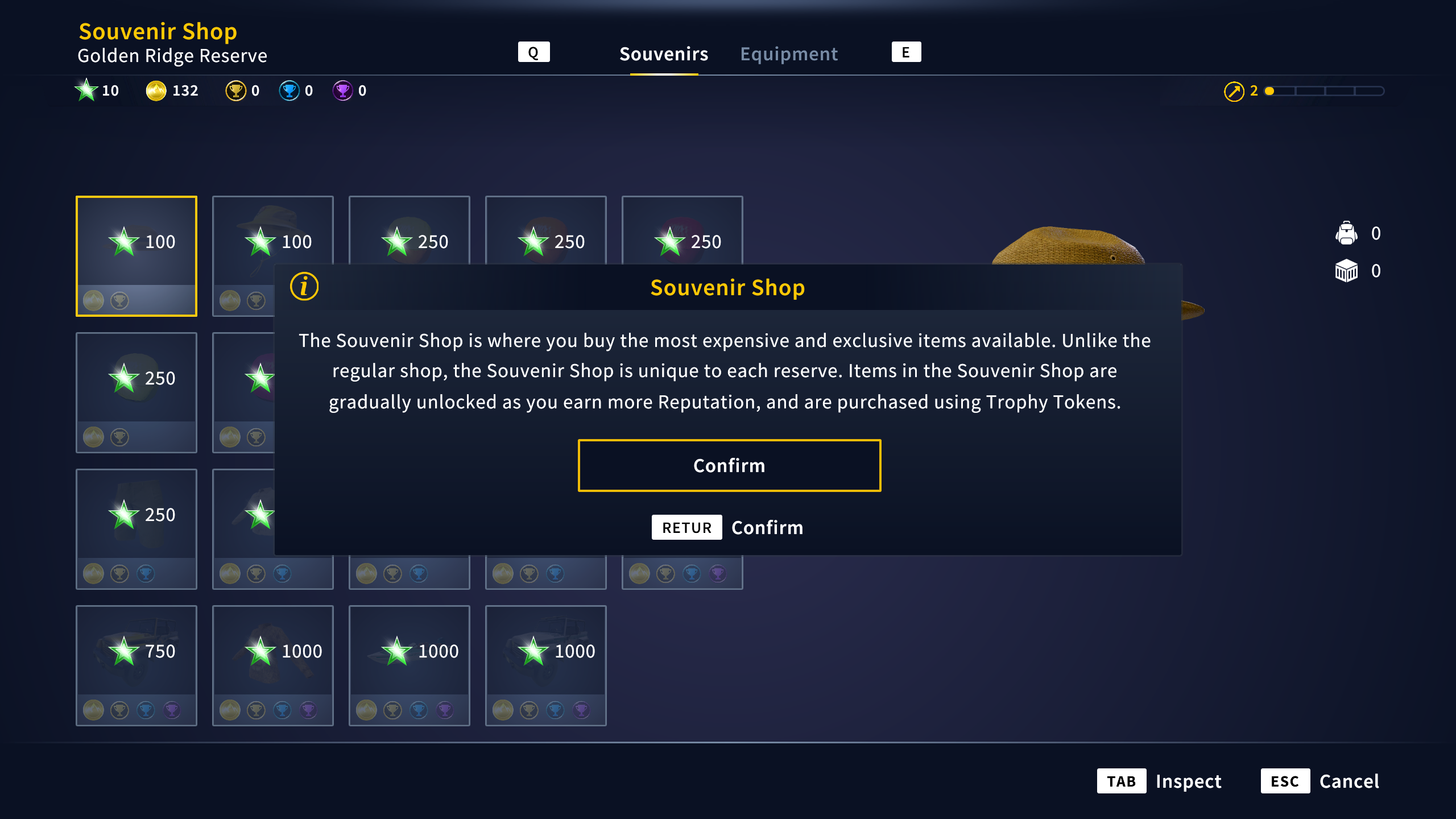 Trophy Tokens
Lastly, we are introducing Trophy Tokens. These are three currencies earned by catching Trophy Fish. For each Gold rank fish you catch you earn a Gold Token, for each Diamond a Diamond Token, and for each Legendary a Legendary Token. Trophy Tokens can only be used in the Souvenir Shop, are required for most items that are sold in the Souvenir Shop, and are unique to each reserve.
Recap
So, in summary:
The tutorial has been revamped

We've added the Taylor Tackle Academy

Levels now unlock gear and give level rewards

Credits are now earned by catching fish

Reputation now unlocks items in the souvenir shop

Trophy Tokens are earned by catching trophy fish
What's Next?
We've been very focused on making sure The Angler is in the best state for console release, which is why it's been a while since our last update. While we hope getting 8 new fish species on Golden Ridge Reserve is a breath of fresh air, we're sure you're curious about what's coming next to The Angler. Well, we have a new reserve on its way with even more new fish! Can you guess where we're going?
Until next time, I'm out! I hope you enjoyed this Dev Diary and all the new changes in the Evolution Update.
About the Author
From playing them as a child to making them as an adult, Nathan has always loved video games. When they're not living and breathing games in some form or another, they find joy in quiet relaxation, cooking, running, and cycling.