01/12/2022
Get Your Free Classic Tackle Pack
As a token of appreciation for your continued support, we hope you'll enjoy this free pack containing new rods, reels, and lures.
Wanna learn more about this brand-new equipment? Keep reading!
Find the 'Wright' gear for you
Like its hound namesake, the Lurcher is a quick, tenacious hunting companion. Fresh from the banks of the Tyne, this reel is incredibly fast and flexible. Able to match the moves of any fish, this reel is a steadfast sidekick. Available in three different variants, the Lurcher comes in Red Gold, Gilt, or Silver for a personal experience.
Wright's rod, the Whippet, is a powerful companion to any angler, and like its quick, lithe canine inspiration, it has the potential to become an angler's best friend. Proudly displaying Northumbrian tartan, this Geordie gem can deal with everything the waters have to offer. Players can choose between three color variants of the Whippet rod – the Pegswood Pacer, the Ashington Arrow, and the Rothbury Racer. There's something to suit every angler.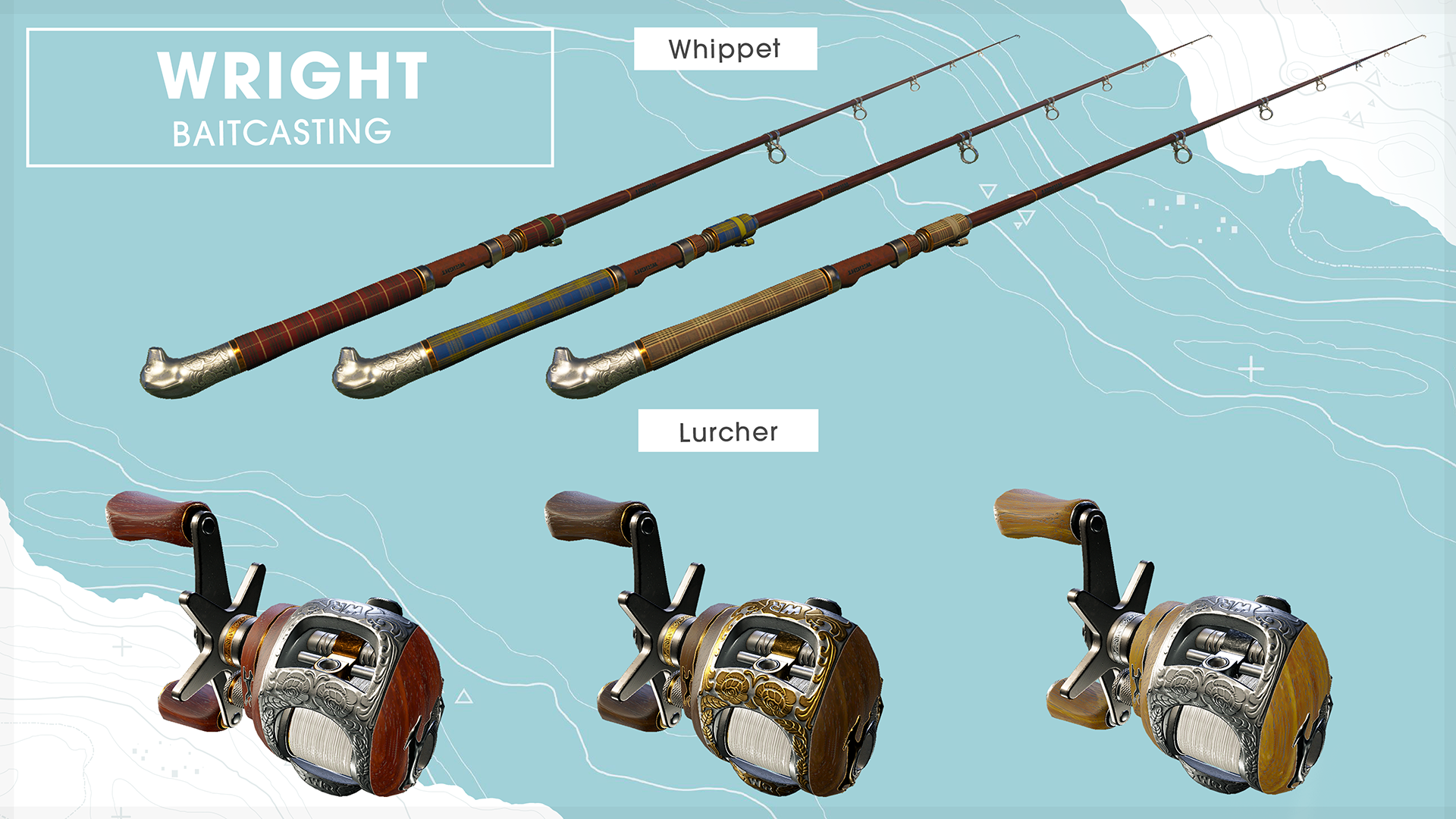 Enjoy the Perks of 'Perk n Kins' gear
Steeped in history, the Perk n Kins Nebuchadnezzar reel is a work of art. Deliciously mysterious, the origins of this reel have been lost to time. Perfect for those who appreciate quality and made-to-last craftsmanship, the Nebuchadnezzar is available in three solid, classic variants – Iron, Worn Nickel, and Gilt. Ideal for making a stylish splash about how serious an angler you are. 
Perk n Kins Gilgamesh rod is the ideal accompaniment to the Nebuchadnezzar. Another legendary item, this exclusive rod is the stuff that legends are made of. Passed up by Johan 'Big Cheese' Jarlsberg because 'there's no point in a special rod that nobody knows about', this beauty has found its way back into the world and is ready to go. Available in Walnut, Bocote, and Rosewood variants, the Gilgamesh's strong and sturdy rod is one that is guaranteed to stand the test of time. 
This tackle pack also includes two lures, each available in three hook sizes with different colors.
Having difficulties accessing your new gear? Follow these steps!
Get the Classic Tackle Pack DLC on the platform storefront of your choice.

Launch or restart the game and head to your storage, which you'll find by visiting the shopkeeper.

You'll find your new equipment stored there, ready to put in your backpack.
Get the Classic Tackle Pack for free now.
Happy fishing, anglers!
About the Author
This content was made by the fine people at Expansive Worlds, a creative division of globally renowned Swedish games development company, Avalanche Studios Group.